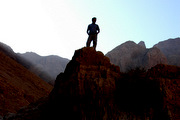 There are a lot of consulting companies. OrionAlpha has pledged to represent the customer, and only the customer. We solely and fully represent the interests of our customers rather than vendors' or distributors'. This way we can tailor the solutions to the true benefit of our customers.


Orion Alpha provides consulting in various IT fienld, including organizational consulting for IT managers, objective analysis and price comparisons to purchase departments, or technology trends surveys and recommendations.


Sometimes, an objective overview of the organization requirements, design and implementation - is required in order to improve the cost-benefit ratio of a project. Our long experience in the IT industry, and working for large coorperations, allow us to protect the organizationís interests by reviewing the projectís various phases and ensuring the project achieves its goals and objectives.


We offer top-class RFP experience, writing complex and highly detailed RFPs that include unique tools for evaluating the questions and later on - the answers. Orion Alpha has managed IT RFPs for global enterprises including the RFI phase, RFP issuance and the full bidding process, as well as reviewed and consulted to RFP writing and answering.